Here is the exterior of June's new cabin in the rear port section, showing the roof hatch.

We took the skiff out on the water to get a bigger view of the Absolute Absolution. Here you can see the rear of the bridge deck with the starboard hull on the right.

The full view of the Absolute Absolution - all 50 ft of her!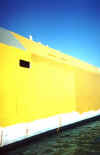 This is Ed's favorite shot: showing the mid section of the starboard hull. Notice one of the little windows of Ed's cabin, the housings for the daggerboards and the hardened drips of foam from the foaming process in the hull.

A view of the starboard hull looking from forward to aft.

Here is Ed placing fiberglass matting on a seam at the base of the roof of cabin number 4. You can also see the daggerboard housings which are in each of the cabins in the mid-section.

Ed applies resin to the fiberglass matting strips to seal the seams of the cabin roof.

Here you can see in through the open side of the wall above the wing deck, to the inside of the center cabins.