Now that both hulls are in the water, we are beginning the process of connecting them together and building the cabin structures. Here you see a close-up of one of the cross-beams.

In this overview shot you can see the beam connecting the two hulls together and a bit of the cabin structure being built at the back. Notice the tent on the deck? Ed is sleeping in there, having taken apart his cabin to reuse the materials.

Here you see Tony and Ed taking apart June's cabin so that the materials can be recycled once again, this time into the bulkhead walls. June is in Europe visiting family for the holidays, and when she gets back, her new cabin will be ready aboard the catamaran.

The view from the back, showing the outline of the sleeping cabins on either side and the main cabin in the center.

In this view, you can see a little more of the framing of the cabins. The shade-tarp framing overhead is just high enough to allow the cabin to be built under it. Under the center you see the working platform, which will eventually be removed (that's where the water will be.)

Now the shade tarp frame has been taken down and the tarp rigged directly over the main cabin at the back. The two side cabins have been completed and Ed and June are now living aboard the Absolute Absolution!
In this side view looking toward the back, you can see the framing of the second center cabin along with the bulkhead wall forward of this cabin, as well as the back center cabin with the tarp as a temporary roof, and the top of June's cabin on the side.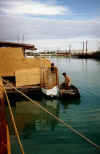 Ed (in the rowboat) and Tony (in the hull) install a piece of plywood on the outside of the hull to form part of the wall of one of the cabins

The view from across the way, showing the whole length of the starboard hull, part of the cabin structure, and to the right of the Absolute Absolution in the photo, the June's Barn and Vilma B rafts.