.
Here you can see the framing for the sloping overhead of the forward center cabin. This same slope will continue forward beyond the bulkhead at left in the photo, and meet the rising curve of the underside of the bridge deck.

This is the section just forward of the first bulkhead, showing the overhead framing continuing the downward slope. Ed has temporarily attached the narrow strip of plywood underneath to help him visualize the rising curve of the underside.

In this visually confusing shot, you are looking under the bridge deck. At the bottom of the shot is the working platform, which is not a part of the Absolute Absolution, but has been indispensable in its construction. When the bottom is all on, this platform will be pulled away, and there will just be water where it now is. On the left, the plywood skin of the bottom of the bridge deck; to the right of that, the framing of the bridge deck itself, and far to the back, light streams through the gap. The breeze and shade under here make crawling around worth the effort.

Here's a shot that shows how the starboard hull and bridge deck look from the back without the working platform. (We took it out temporarily to clean it of construction debris.)
The view from the front, showing the framing of the forward section.

Ed works on closing in the starboard bow section. Notice the slanted portion leading from the forward deck to the wing deck. There will be a hatch in this wall, as this is where the forward-most crew cabin is located (there will be one in the port bow as well.)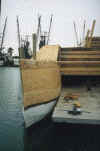 Here's the finished, close in, starboard bow. It still needs to be fiberglassed.

The latest view from the side, showing the yellow primer paint all along the starboard side. You can see the windows of the three crew cabins finished on this side, all occupied.