Ed and June sit on the top deck of Son of Town Hall in Sete, France, just before setting out for the American Northwest in August of 1999
Ed found some truly big logs, but nothing he could use to start his raft with.
Ed, Capt. Betsy, Poppa Neutrino, and June at the headwaters of the Mississippi River in April 2000, starting the Vilma B project

Ed throws a line to shore at one of our first night's stops on the Mississippi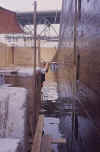 June handles the line in one of the many locks on the Upper Mississippi

Ed and June proudly holding up the first frame of the Absolute Absolution, on the building platform next to the Vilma B
(The design was later modified and this frame was never used)

One of the two sections of the Vilma B raft which stayed in Corpus Christi with Ed when he decided to start building the Absoolute Absolution there. These raft sections became the floating, expandable building platform.

Thor watches as the rest of the Vilma B raft and crew depart from Corpus Christi. He was now part of Ed's crew.
Ed and June contemplate their new beginning